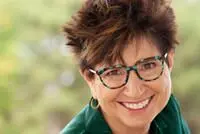 About Terri
I work in a unique way that relies upon the relationship created between the client and me. I see myself as a tool to be used in service of what you are trying to accomplish for yourself and your family
.
We will talk about what's bringing you to therapy, and together we will identify the areas in which you would like to grow.
I see myself and the relationship as the tools for your growth and healing. The fit between therapist and client is an essential part of therapy. I invite you to come in for a session and see how it feels to work with me. You can learn more about me by liking my Facebook page: TherapywithTerri


Before embarking on my path as a therapist, I have worked in marketing, training/organization development, and education. My experience in other fields brings depth to my work as a therapist.


I have worked as an advocate within the Los Angeles' diverse school systems, helping people determine the correct placements—including special education, residential treatment, and rehabilitation—for children with special needs. I created and facilitated a Community of Practice that provided training for educators of children with special needs in the 135 Builders of Jewish Education (BJE) affiliated schools in Los Angeles.


Most recently, I am completing my advanced training at the UCLA 2 year course in Couples and Sex Therapy through AACAST (The American Assoc. of Couples and Sex Therapy) with Dr. Walter Bracklemanns. I have received 2 years of training and supervision in psychodynamic-oriented psychotherapy at the nationally-recognized Maple Counseling Center, a community counseling clinic in Beverly Hills, California. Through Outreach Concern, I spent several years providing school-based counseling to teens in Los Angeles high schools. In addition, I directed and served as the CBT-oriented therapist for Camp Shane, an overnight weight-loss summer camp for children and teens.


I have also participated in advanced training and consultations with renowned psychologist Dr. Josh Coleman, internationally known expert, author, and speaker in parenting, families, and relationships and Dr. Amy Baker in Restoring Family Connections.


Education
Bachelor's degree in Marketing, The Pennsylvania State University
Master's degree in Organizational Psychology, Columbia University
Master's degree in Clinical Psychology, Antioch University